Swipe Right: The Clothes That Get Us Hot Under The Collar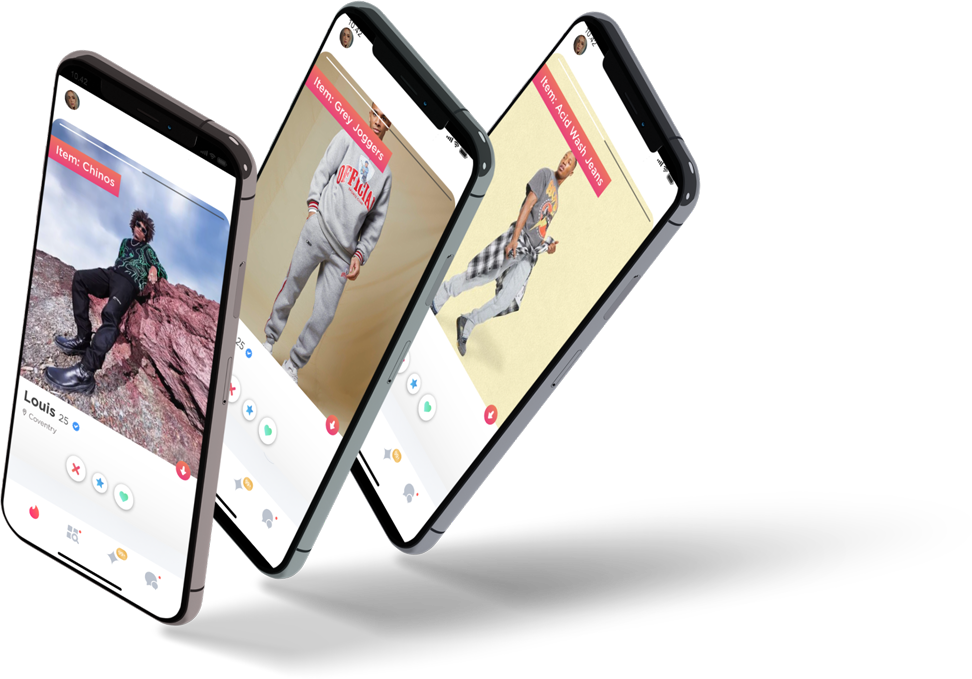 Getting tired of endlessly swiping through Tinder? Don't worry, you're not alone.
Here at boohooMAN, we have conducted extensive research to find out which outfits increase your chances of love at first swipe, giving you the opportunity to up your dating game and finally find the one.
Have your say, which items are worth a swipe right?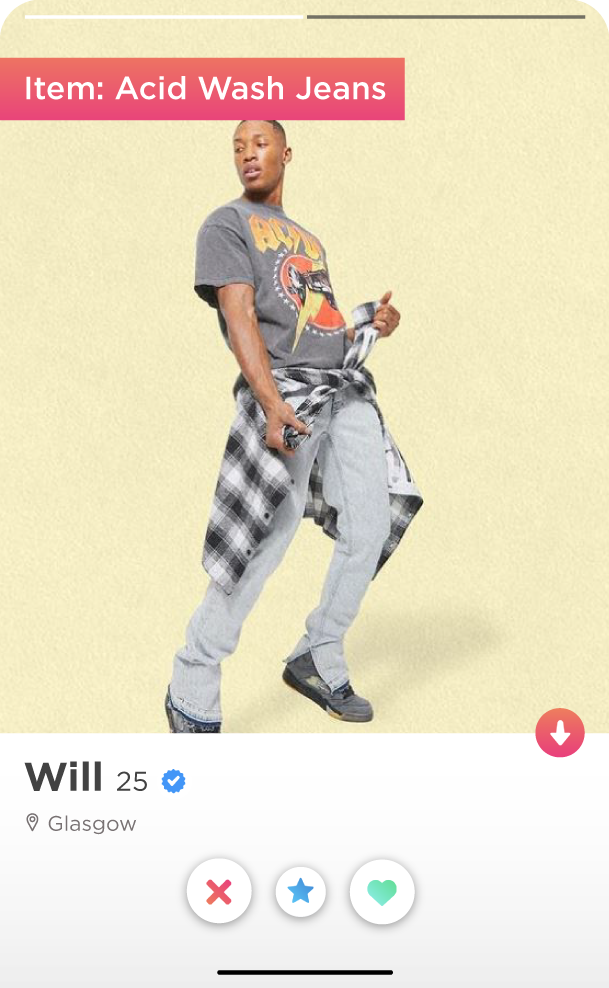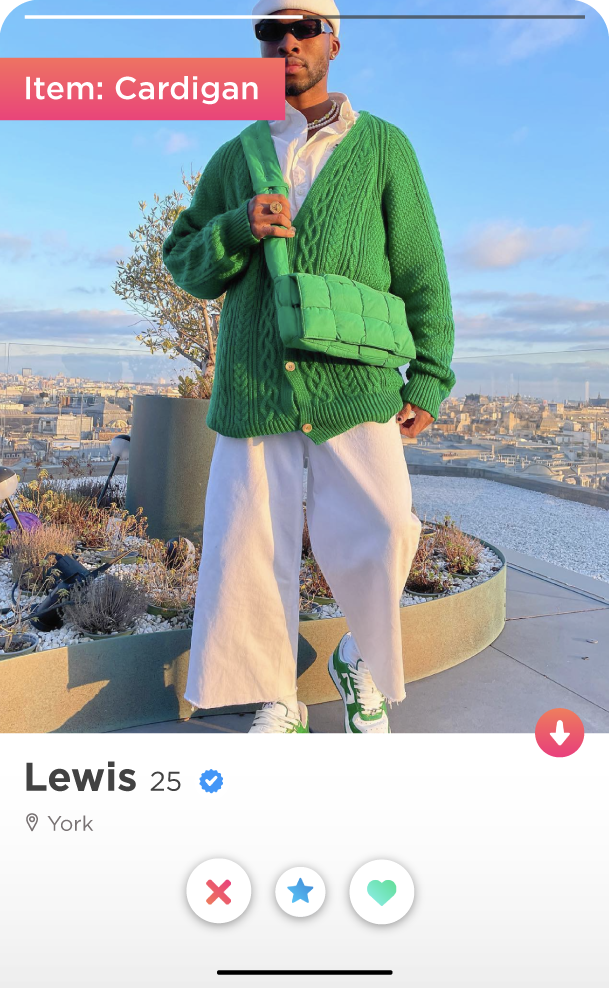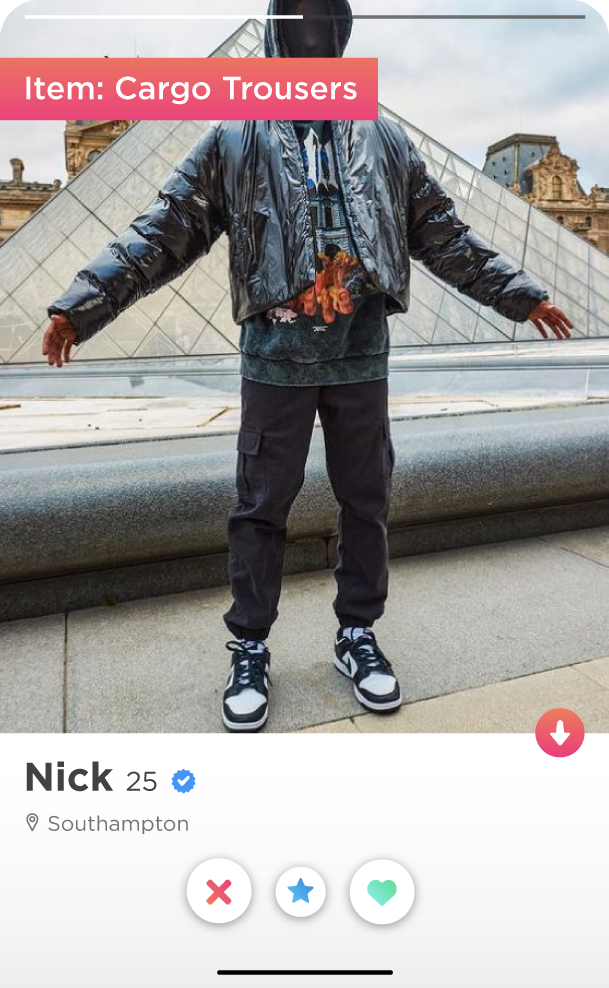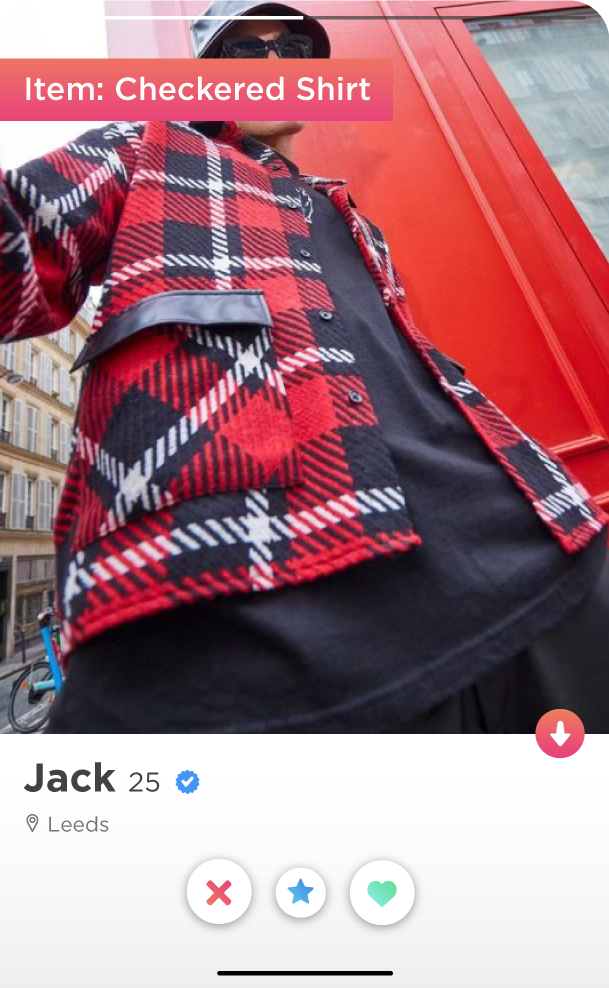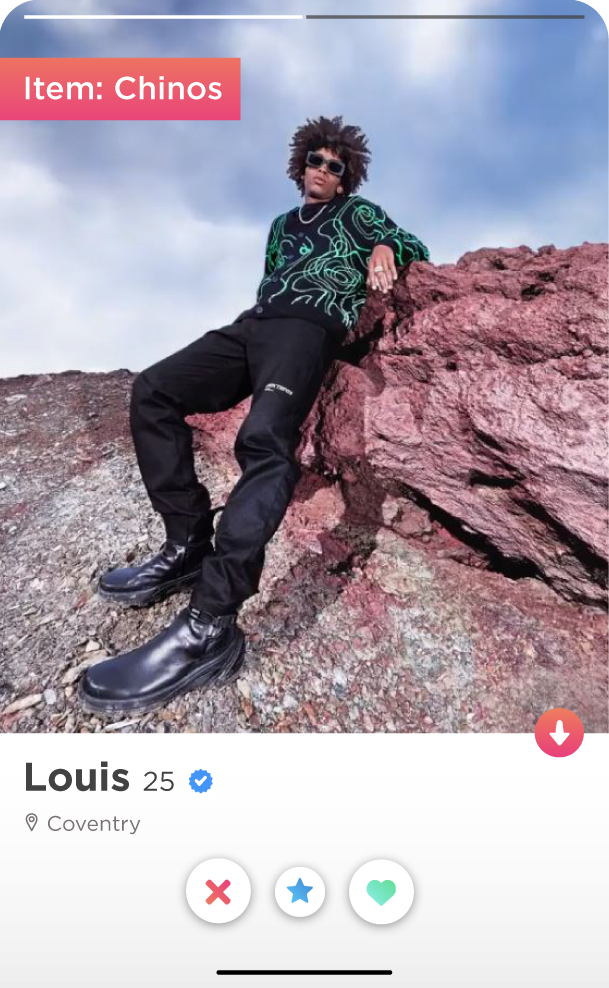 >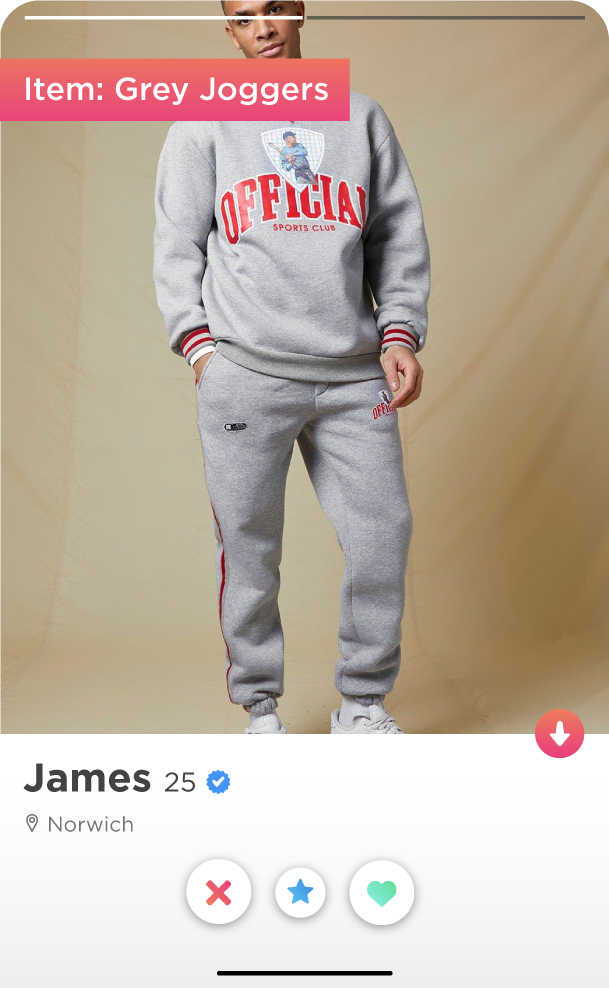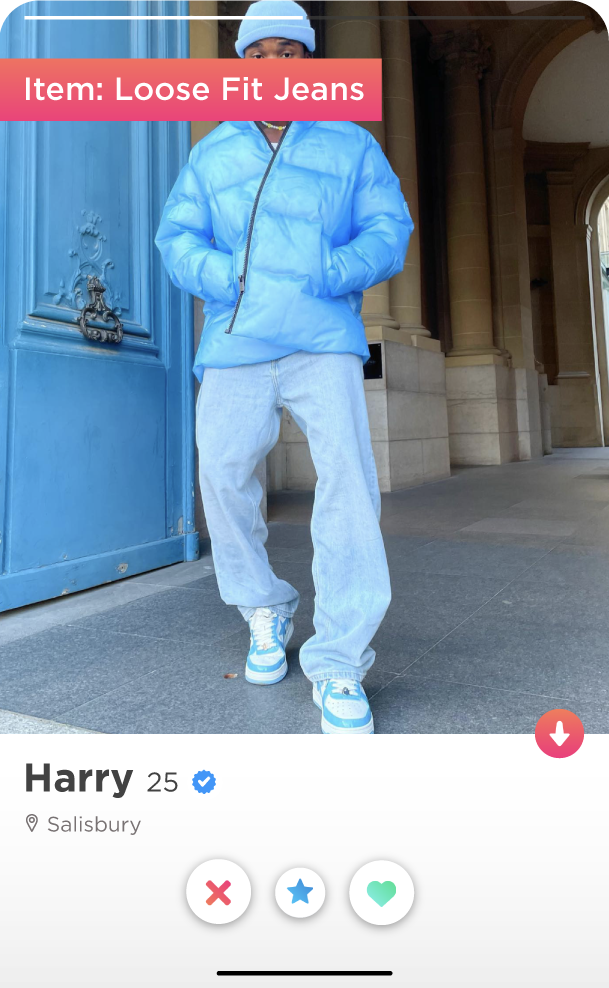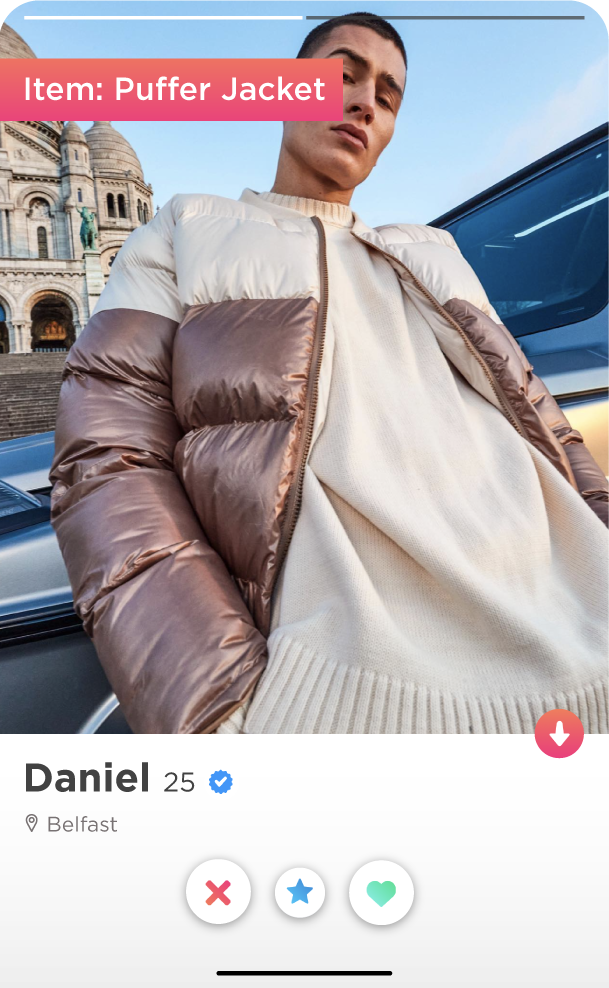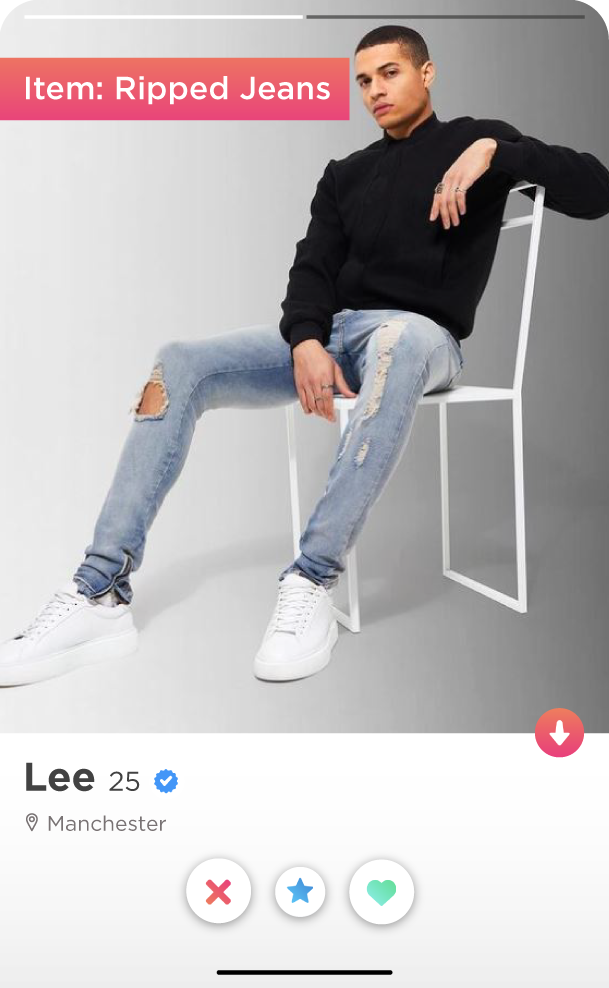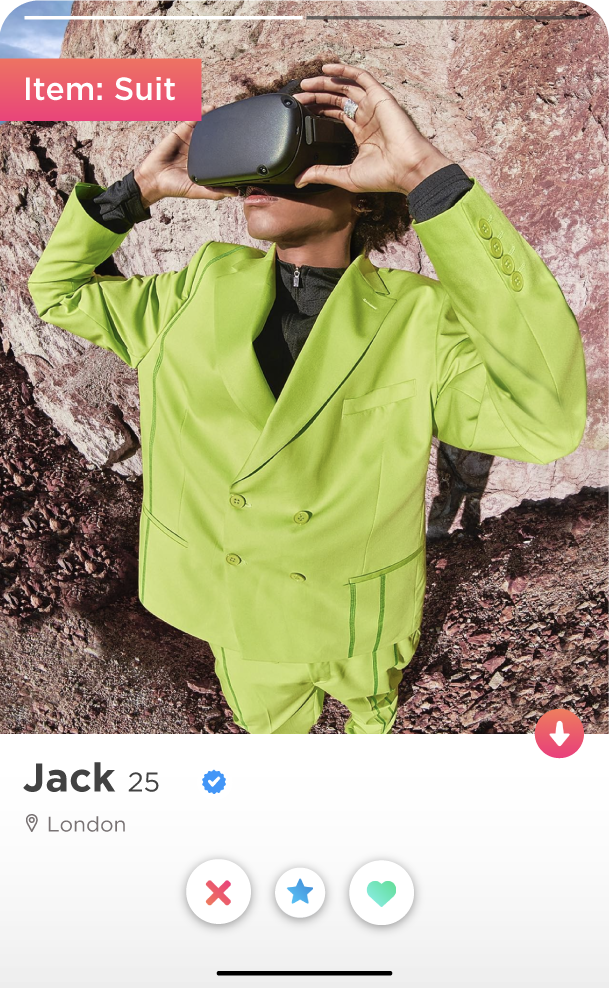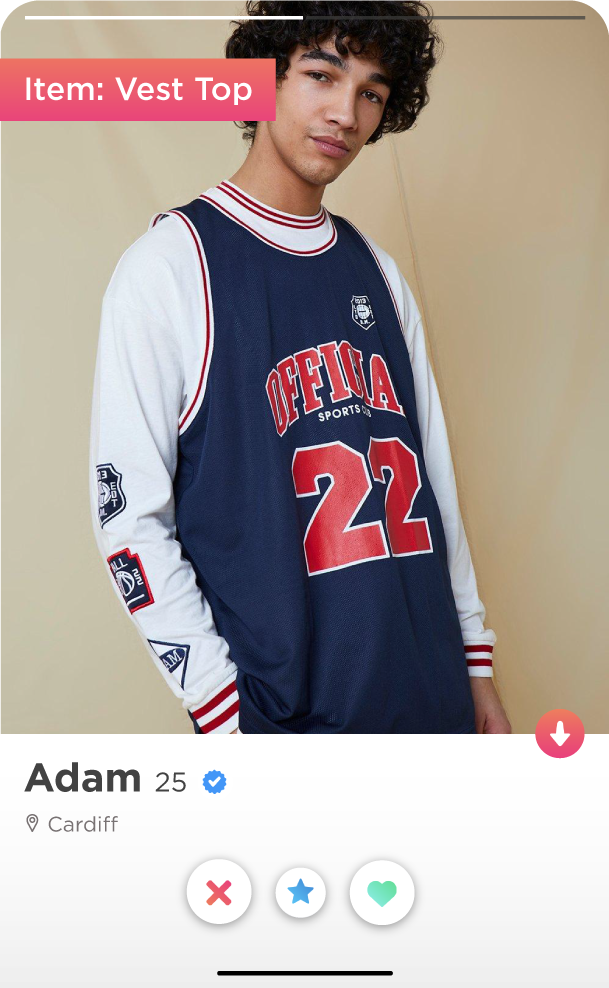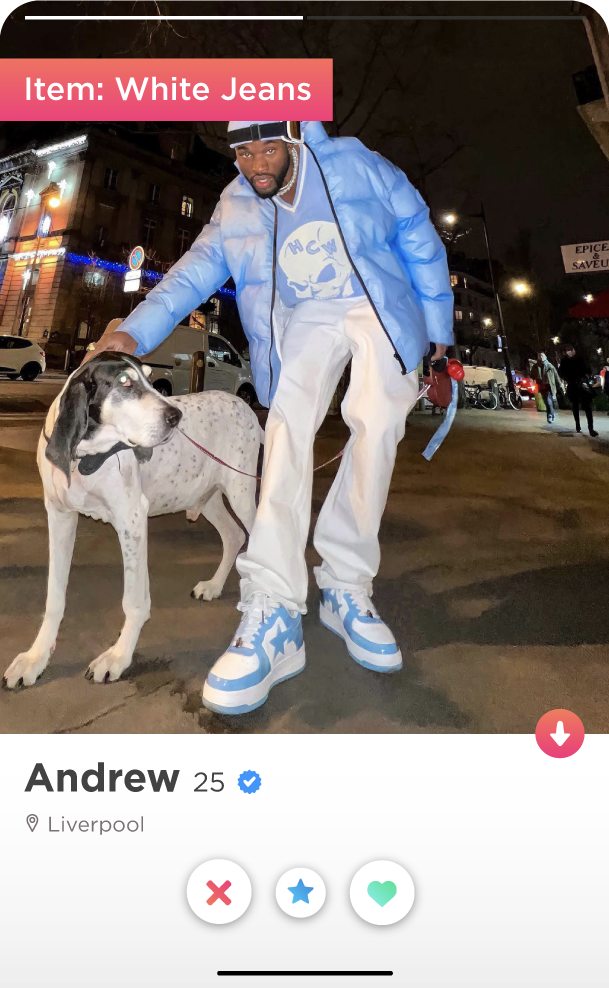 | Rank | Clothing | Number of Matches |
| --- | --- | --- |
| 1 | Cargo Trousers | 22456 |
| 2 | Loose Fit Jeans | 13627 |
| 3 | Cardigan | 8915 |
| 4 | Suit | 8883 |
| 5 | Grey Joggers | 8716 |
| 6 | Acid wash Jeans | 6252 |
| 7 | Flat Cap | 5772 |
| 8 | Ripped Jeans | 5416 |
| 9 | Checkered Shirt | 4326 |
| 10 | Denim Jacket | 3598 |
| 11 | Puffer Jacket | 3555 |
| 12 | Man bag | 3447 |
| 13 | Chinos | 3326 |
| 14 | White Jeans | 1541 |
| 15 | Beanie | 1350 |
| 16 | Vest Top | 1066 |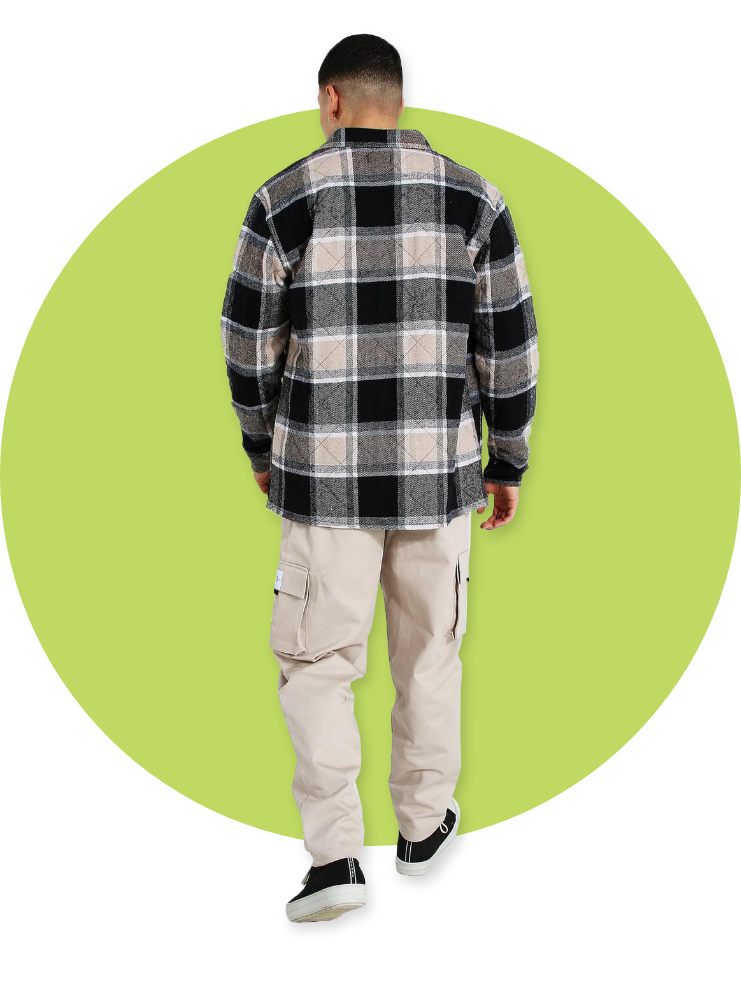 Ever wondered if your outfit increases your chance of a match? Well, you're in luck. Here at boohooMAN, we've conducted extensive research to answer this very question, and find out once and for all which items of clothing will lead to love at first swipe.
With the topic of fashion no-gos trending on TikTok and the nation torn about the white jeans controversy, items of clothing that turn you off are a hot topic right now. The hashtag 'ick' on TikTok has racked up over 353 million views, and that's why we created this study to discover which date night outfits are guaranteed to land you a swipe right.
Using Tinder, we created various profiles, each featuring our models wearing a specific item of clothing, from grey joggers to ripped jeans. We gave the British public seven days to get swiping to discover the UK's top picks and icks. After calculating each profile's matches, the results were in. These are the outfits that cause the nation to swipe right - make some notes.
Cargo trousers are the most swiped-for item of clothing
The UK's most swiped-for items are cargo trousers, receiving a whopping 22,456 matches across the UK, and proving to be most popular in London! On TikTok, the 'workmentrousers' hashtag has received over 556 thousand views, showing us just how much the popularity of this item has soared across social media.
At boohooMAN, we know not everyone is lucky enough to experience the magnetism of wearing cargo trousers. But if you aren't a tradie and still want to reap the benefits, check out our very own boohooMAN cargo trouser dupe.
If you want to show that you're not just all work no play, it might be time to swap your skinny jeans for a baggier fit. Another item with an epic amount of matches was a pair of loose fit jeans, receiving 13,627 in total, most of which came from swipers in Birmingham and Leeds. This proves that it's time to leave your spray-on jeans in the past to not only give your legs some circulation back, but also to bag yourself a date.
Here at boohooMAN, we love to get suited and booted, and it's clear to see the rest of the UK are in agreement! Raking up 8,883 matches, suits were the fourth most popular item in this study. From Mr Grey to 007, suits are a sure-fire way to bag yourself a date! If you fancy dressing to impress on your next date, then check out our tailoring range.
Vest tops are the least swiped-for item of clothing
The UK's least swiped for item of clothing, receiving only 1,066 matches, was the vest top, which was least popular in Belfast. It's clear from our research that if you're not in the gym working out, or laid by the pool in Ibiza, a vest top is not going to help you land a date. Maybe try something with sleeves?
Another item of clothing with very few matches was the humble beanie. Although we think a beanie gives off a certain edge, clearly the British public don't agree - this item only received 1,350 matches in total. If you still fancy your chances and are looking to keep your head warm in the winter, shop our collection of beanies.
After the white jeans uproar, it is clear to see the hostility towards this item has not died down. White jeans only received 1,541 matches across the UK! However, the team here at boohooMAN says hang back on throwing your white jeans away, as everyone knows that fashion trends never truly die - what goes around comes around.
Now that lockdown is a distant memory and our date nights no longer have to be over Facetime, it's crucial our outfits are on point. Whether you're going out to a restaurant or playing crazy golf, your outfit matters, and this research proves that first impressions can be tainted by your choice of clothing.
If you're thinking about setting up a Tinder profile, or already have one on the go and want to up your game, then the team here at boohooMAN hopes these insights will help you in your journey of finding love at first swipe.
We created 16 different Tinder profiles and set the locations to 16 different cities across the UK, each profile featuring a specific item of clothing.
We then swiped 700 times over a 7 day period to get the results and discover which items were most and least swiped for.